INSTITUTION Foundation for Research and Technology- Hellas (FORTH)
DEPARTMENT Institute of Electronic Structure and Laser (IESL)

FORTH-IESL, founded in 1983, is a leading research institute worldwide in lasers, photonics and materials science. In the context of Heritage Science (HS), IESL has pioneered the use of advanced laser technologies in diagnostics and conservation of monuments and art objects. Over the past 30 years, IESL has built a strong, cross-disciplinary program (Photonics for Heritage Science- PhoHS) pursuing innovative research on advanced laser science and technologies and their applications in the field of HS focusing on a) analysis (spectrochemical sensors), b) diagnosis (imaging, holographic sensors) and c) laser conservation. Prompted by the urgent need for on-site work, researchers at IESL have developed state-of-the-art mobile instrumentation for diagnostics and conservation that has been employed in several field campaigns at museums and archaeological sites in Greece, Europe and the Middle East. IESL has been operating as a European Research Infrastructure (RI) since 1990 and is among the founding members of LASERLAB EUROPE a major network of RIs. As a member of the CHARISMA (2009-14), IPERION-CH (2015-19) and IPERION-HS (2020-23) RI projects, IESL has been and continues to be involved in the development of innovative instrumentation and methodologies for diagnostics and conservation. It is a core member of the European Research Infrastructure for Heritage Science (E-RIHS.eu, ESFRI roadmap).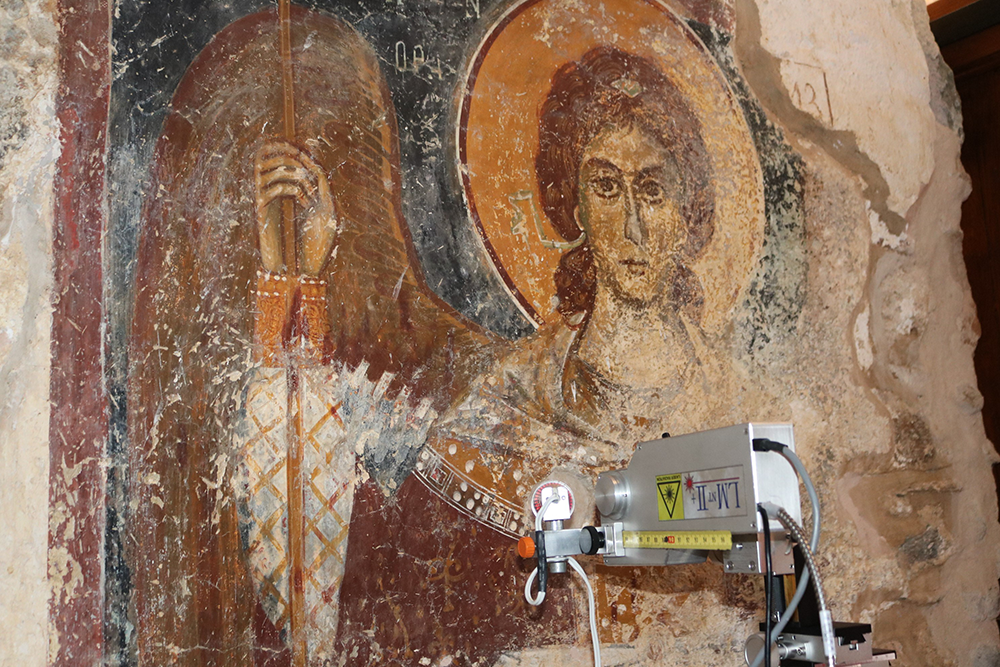 1Credits: K. Melessanaki, PhoHS- IESL/FORTH in the framework of the NSFR project "POLITEIA" 2013 in collaboration with the Ephorate of Antiquities of Heraklio
2Credits: K. Melessanaki, PhoHS-IESL/FORTH, in the framework of the project «Digital Aposphragisma of Hagionymous Islands», OPERATIONAL PROGRAM INTERREG V-A, GREECE-CYPRUS 2014-2020 in collaboration with the Ephorate of Antiquities of Heraklion, 2021